Fire Damage Assistance in Oklahoma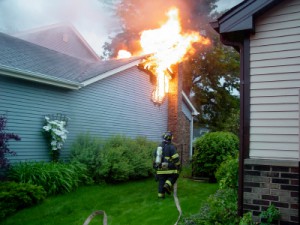 Intense heat and smoke from even a small fire can leave you confused and feeling helpless. While others will give your family some comfort and perhaps some food and water, it seems like your world has collapsed around you. We know this feeling. We have seen that same look on your face in our clients that we have helped in the past. We have helped hundreds more just like you get their lives back and restore their homes again. We are
Reliant Public Insurance Adjusters Inc
. We provide Oklahoma homeowners with services that mean the most when it comes to dealing with Fire Damages. Whether your home is partially or completely destroyed you can count on us to fight for your rights and get everything that we can for your family. A fire damages more than just the surface of your home. Smoke damage is a real thing that cannot be covered up with paint and fa-breeze. Electrical wiring can be damaged more than just the charred area. When your electrical wiring is heated, it can burn off the protective coating behind the walls and it becomes a fire hazard. Do not add insult to injury! Call Reliant Public Insurance Adjusters Inc and get your Oklahoma home back on track. With our help your recovery is assured and your home will be a safe place for your family once more. We can help you with your fire damage claim and get your insurance company to give you what you deserve to rebuild your home.
We Can Help With Your Fire Damage Claim
Settling insurance claims is now, more than ever, a complicated and confusing process. Our Oklahoma insurance claims experts will work with you and your insurance company to ensure the restoration process is as smooth and hassle-free as possible. We have the knowledge and experience to handle you claim in a timely manner so work can begin to restore your home to its former glory. If you are struggling with your insurance company give us a call! We can make the process easier for you and your family.
Reliant Public Insurance Adjusters Inc appreciates your feedback. Please give us more time to collect your reviews and they will be displayed below.
---
Recent Articles on Fire Damage
The Causes of Fire Damage

While some causes of fire are general and can occur anywhere, other causes are more specific for certain rooms. If you're not careful about how you handle fire, you could easily end up causing severe damage unintentionally, or tragically even the loss of life. In order to help prevent that, we would like to share...

Read More
If you are looking for Help with your Fire Damage Claim in Oklahoma then please call 405-641-5734 or complete our online request form.