Have your Property Insurance Adjuster Help You With Lightning Damage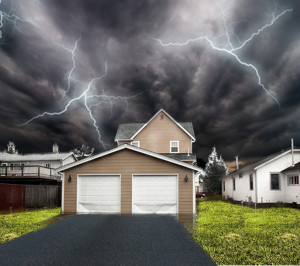 Lightning Damage
to Oklahoma homes is real and it can be the cause of a lot of grief for some families. Each lightning strike carries 100,000 or more volts and it can cause various amounts of damage to your home. Lightning damage can affect your home in two different ways. The direct hit of a lightning bolt can cause significant damage and even start a fire. The indirect hit can be carried by power lines, phone lines, and even plumbing. Oklahoma is hit by 1,017,989 strikes per year, according to data from Vaisala. In addition, that gives us 15 lightning strikes per square mile in Oklahoma. The likelihood of lightning damage to your home becomes a reality when you learn about lightning strike statistics like these. Lightning can damage everything from your electrical system to physical damage like a fire. Your electrical system can be affected by lightning as well as anything that is plugged in. Most homeowners have some form of surge protection for their computer and entertainment center electronics.   However, most of your appliances do not.  That's right! Your washer and dryer, refrigerator, electric oven, and your central heating and cooling system can be affected by lightning as well.
We Can Help With Your Lightning Damage Claim
In some cases, your insurance company will cover damage stemming from a lightning strike including fire damage. Dealing with an insurance company about a claim can be difficult and sometimes very frustrating. If you call Reliant Public Insurance Adjusters Inc, we can help you get the ball rolling and deal with the insurance company for you. We know how to handle situations like this. Put our experience to work for you.
If you are looking for Insurance Claim Assistance for Lightning Damage in Oklahoma then please call 405-641-5734 or complete our online request form.